In this month's Walthers Catalog, page 9, there is a set of stainless PRR P-S 10-5 Sleepers with red roof, window band, and ends. Reminds me of Frisco's Cimarron River. I've never heard of PRR actually owning something like this - any truth to this scheme?
Cimarron River, pic from St. Louis NRHS site: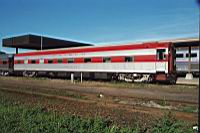 Walthers PRR P-S 10-5 Sleepers:
Edit: It appears PRR painted their sleepers for SLSF's train "Meteor". Odd, because usually the golden rule applied here - "he who has the gold makes the rules". In other words, the richer railroad, PRR, makes SLSF paint everything Maroon.
Dig the new rr.net Instagram account: @railroad_dot_net