While heading home on the 400 expressway I looked towards GJ and noticed construction equipment. I got a little excited cuz I thought maybe improvements for more traffic might be coming. I pulled over and took this picture: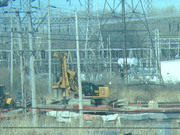 I then drove around to the Indian Church St crossing and walked in to GJ. Not what I expected. From GJ south along the Gardenville Line to where it meets the western wye is all covered with stone for protection and maneuverability of various construction equipment. I didn't walk in this area.
I though the pic storage site was repaired but unfortunately its not so no more pics until tomorrow.
Briefly, while walking around, it became clear that the construction equipment is for drilling. The power company is either replaceing or expanding "the grid." It has been many years since I've walked back there. Alot of the transfer stations were in a poor state and looked abandoned. But there is brand new "stuff" back there including shiny new fences. And, more to come. They maybe installing new power line poles or maybe replacing the existing power line towers. Some of them are beat. Edit addition: They are drilling holes and dumping concrete to establish a new pedestal for the new pole to be bolted in place.
All Switches around GJ are still in place. Even the old track that leads up to a transfer station. I looked for the 1800's rail but the only one I could find was 1902. All the classic PRR signals are gone. The dwarf signals too. I would always look for them when on the 400 espressway at night. Easily seen. All gone. Even the former light tower is gone now.
I'll try to get more pics tomorrow.