After picking up a couple of books from the library [Ya know what that is....right?} I headed over to the pizza shop on Broadway 100 feet from Old Broadway. Picked up a slice and then parked along the Frontier Yard. Had good timing today with several crew changes all within 30 minutes or so. What was really amusing is that I was able to watch different aspects on the signal tower up against the Harlem Rd bridge. Usually its just all red. Even got a blinking green.
But the 3 CN units really stuck out today. So clean and shiny. They look new. If I read the roster correctly [
https://www.thedieselshop.us/CN.HTML
]
8834 and 8830 were built in 2007 and 4920 came from MP.....so not so new.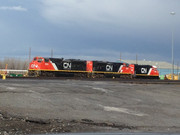 Picture is zoomed in with a 5c. Not the best quality but better than nothing.