Ok, here's another quiz. Love this pic ! (
Larger version via link below.
) It reminds me of one of those old-fashioned movie trailers with the hero in dire straits about to perish saving the day such as what Indiana Jones made use of consistently. Allready, here's the deal. You decided to go on a little voyage on your time machine and you've gone back to somewhere in the Boston area. You're part of the wreck crew for Everett Shops at the MTA and your foreman has just yelled at you, "Hey, get in a truck and get over to ♫♫♫♪♪ !!! Billy Brill has just dropped a shoe on the 5714. Bring him a new pole with shoe !" Ok, so I'm new at this job. Stop telling me to rush, Cosmo ! Alright, I could use a little help !
.
1) Can you tell me the location of the streetcar ?
2) For my work order, what route and number is the 5714 on ?
3) What is the motorman, Billy standing on ?
4) Is the bridge up ?
5) Was the bridge up if it isn't already ? (could be a trick question
)
6) This darn form wants to know if the MTA logo on the car needs to be updated. There's a couple of types here. It's called ------ --- ----- ?
7) What's the name of the type of trucks on 5714 ?
8) What are those upside-down pans above the overhead by the front of 5714 ?
9) What do they do ?
10) What are those screens at the bottom of 5714's windows ? Mosquito screening ?
Ten Questions, ten points per question, as usual last question to be answered wins. If we reach a stalemate, highest score might win this one, we'll see. All in all, probably a moderate to difficult Quiz. Good luck!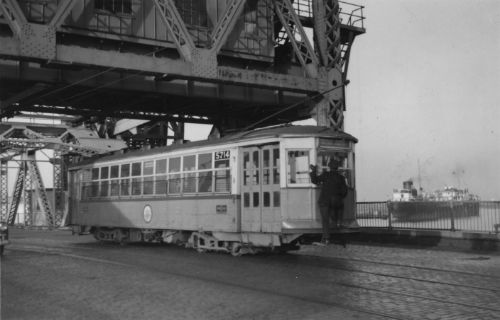 http://i203.photobucket.com/albums/aa26 ... t736-2.jpg
" onclick="window.open(this.href);return false;
~Paul Joyce~
Moderator: Toy Trains, Model Railroading, Outdoor and Live Steam
Paul Joyce passed away in August, 2013. We honor his memory and his devotion at railroad.net.