I don't think there is a forum for NHIR, so I'm posting a forum here for NH related questions.
Was there ever any type of signalling on this branch north of Hatboro? I had the opportunity today to drive along most of the line, and have ridden it several times and have never seen any evidence of waysides along the line. The last one I see today is north of the Street Road grade crossing, just prior to entering SEPTA territory. I assume that is the border between SEPTA and NHIR.
There is also a absence of telegraph poles along the line, so I assume such a system never existed. Even the Newtown branch, as small as that was had signals and telegraphs, so I'm curious how dispatchers communicated with trains in those days. There are quite a few passing sidings, but how did trains get their orders back then?
NHIR seems to be doing well with freight along the line. It looks like the siding to the pasta plant at County Line Road is once again open for business. There are 2 boxcars on the siding with shiny wheels which is evidence that they were placed there recently. I also assume this siding is serviced by NHIR and not CSX. I'm just curious as to why Reading sold the branch if there was viable freight, unless they didn't want to be involved with short line type freight moves.
The rest of the line is in pretty shotty condition. I don't think trains can go over 30mph on the line because of track conditions. Wonder if they are ever going to improve things.
As soon as I find my camera, I'll post some pictures I took today, although today was overcast so the quality isn't so hot. I have a half decent picture of SEPTA's old wire train in Buckingham with a huge wasp's nest on the front door. Wonder what NHIR's plan for the car is ( I know it won't be for stringing catenary).
And here are the promised pictures: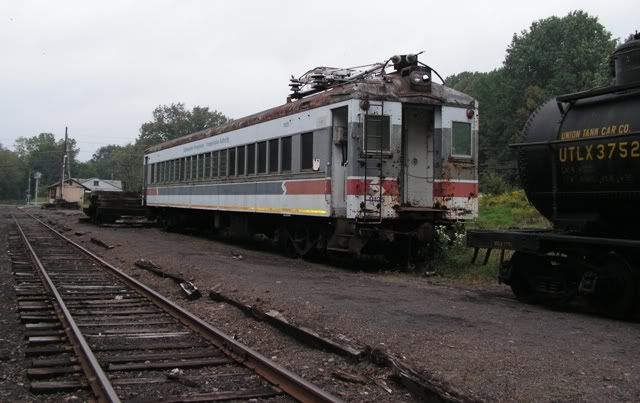 Anyone know what's in store for these cars? NHIR has been storing these here for ages. Its also too bad they chose not to hold on to their Reading heritage with the repainting of all their cars in NHIR livery. The cars look good on the outside, but its still the same 70 year old seats on the inside.