Hi All ! I've finally gotten the official railroad investigation on a historic wreck that I'm interested in. I won't tell you which wreck it is, not that it's a big secret, but I don't want you to be prejusticed with old lore as this wreck is over 100 years old and it's supposed "cause" has been pretty much established over the years. I've come accross a part in the investigation that I would be curious for anyone that knows anything about train wrecks to comment on. This is a wreck which was located at a small bridge carrying commuter rail trains over a street approximately 36 feet below. It is commonly believed that the bridge gave way, causing the engine's cars to fall to the street below. There were 9 cars and an engine/tender. The engine and it's tender made it accross the bridge. The first 3 cars broke away from the tender and remained up on the embankment and had
TELESCOPED INTO ONE ANOTHER
. The remaining 6 cars plummeted down to the street on the collapsed bridge.
What I can't understand is how the first 3 cars got telescoped considering that they made it accross the bridge. Although derailed, they generally followed the right of way...but impacted each other. From what I understand of the early days of telescoping at railway accidents, there usually was tremendous force, such as head-on collisions where this would happen requiring considerable energy. I can't imagine where this considerable energy would have come from up on the embankment level.
Here's a photo from the wreck scene. All of these cars have made it beyond the collapsed bridge. I would expect to see moderate damage at the area of union between the 3rd and 4th car (far left of photo), where the train seperated falling into the street - not the telescoped devastation that we see here running along the plane of the embankment. From the look of the cars, it almost looks like they got pulled down off the embankment onto the street below and then up again onto the embankment, but I realize that that's highly unlikely. Visible are the first three cars and the roof of the fourth car. Any ideas ?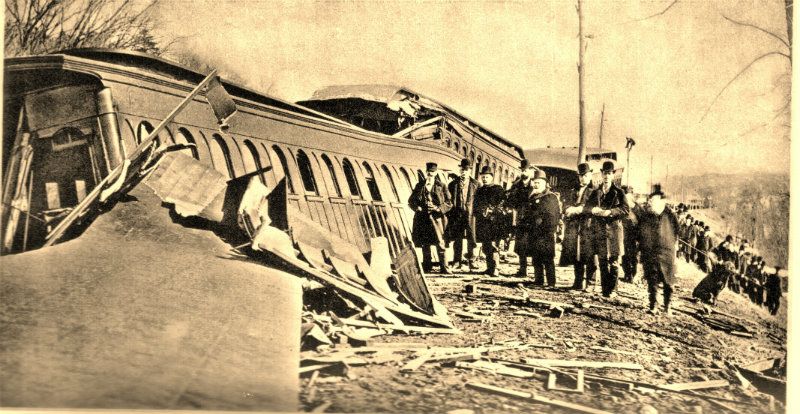 ~Paul Joyce~
Moderator: Toy Trains, Model Railroading, Outdoor and Live Steam
Paul Joyce passed away in August, 2013. We honor his memory and his devotion at railroad.net.