I was a teenage railfan..
I was 14 years old in 1983 when I first picked up a camera and pointed it toward a train..
I lived in Waverly, NY - Sayre, PA (the same place) and my hometown railroad was Conrail.
I had sadly just missed the Lehigh Valley and Erie Lackawanna, but I was only 7 years old in 1976,
and was too young to know that anything unusual was happening..oh well..
we cant choose when we were born!
but I cant complain, because looking back now, the mid 80's was still a fascinating time!
still a bunch of old power about, Guilford then Susquehanna brought an amazing mix of power through town,
including the last of the D&H Alcos! it was a great time to be that teenage railfan..
I joined the "Valley Railroad Museum" in Sayre, and spent many of my days trackside around Waverly and Sayre..
In 1984 there was still a lot of "predecessor" power around..although not much left still in predecessor paint..
I saw several units still in PC black, and one Reading unit, but I never saw any units in LV or EL paint though..
Some photos...
An ex-PRR GP30..the GP30's and GP35's were near the end of their careers, but still around.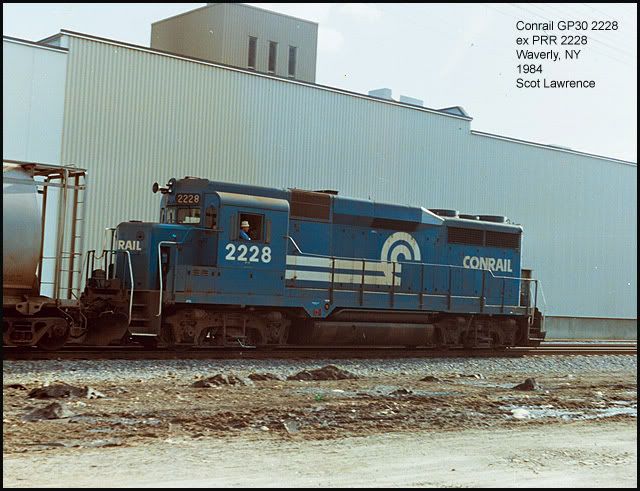 a Lehigh Valley U23B! repainted however.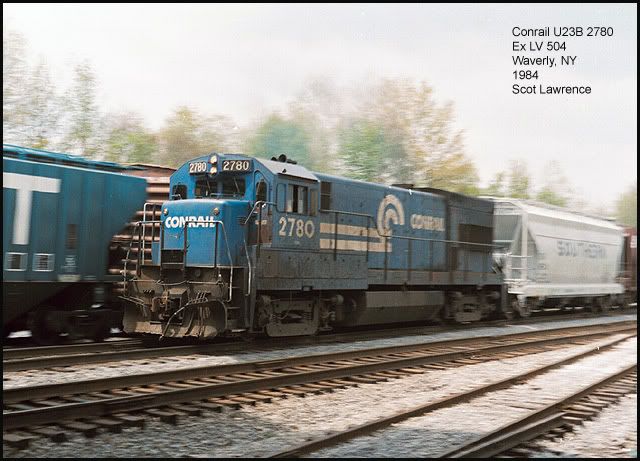 An ex-Reading unit, a GP35..also quite rare by this time.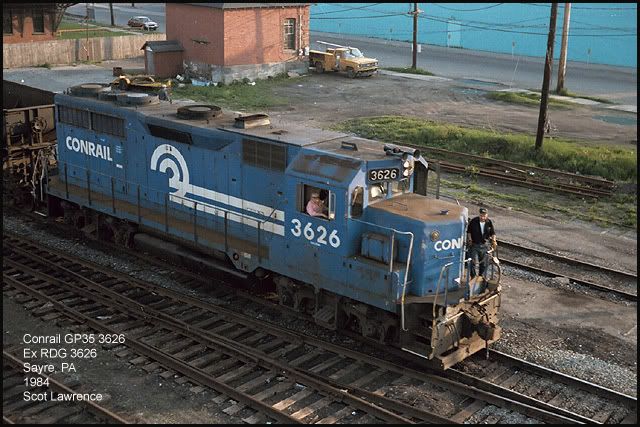 The "All American Locomotive" the GP38-2.
the everyday workhorse.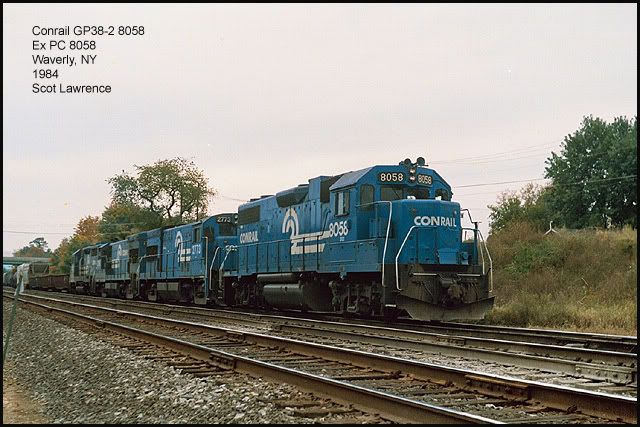 A genuine SD40! (not a dash-2!)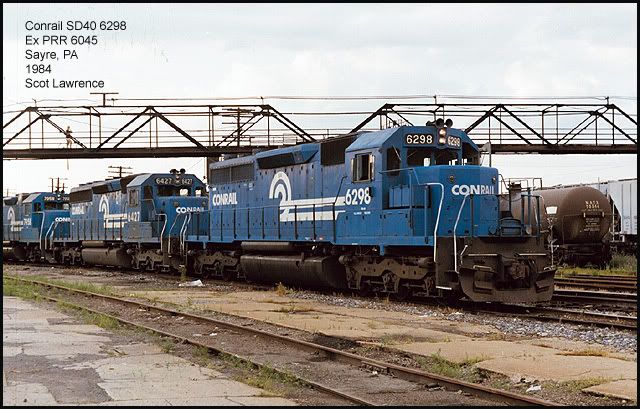 Cabooses were still in general use until around 1984-85, when they began to be phased out..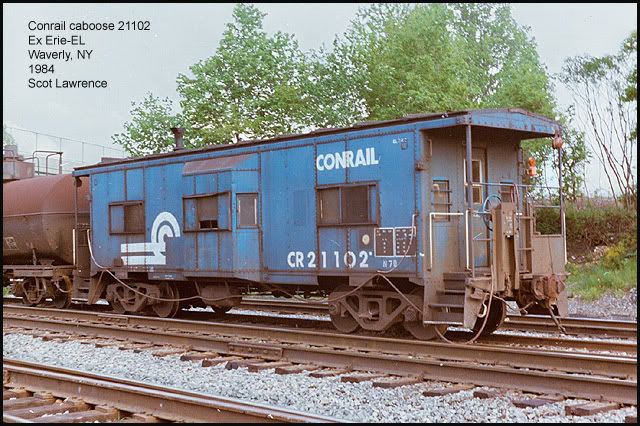 First generation GP's..still in service. Conrail rebuilt many of these in the late 70's.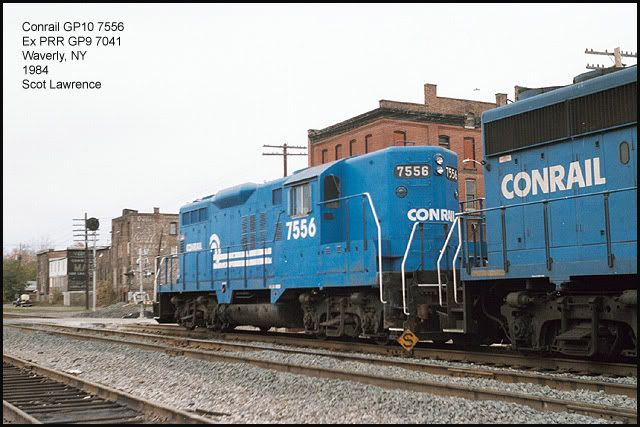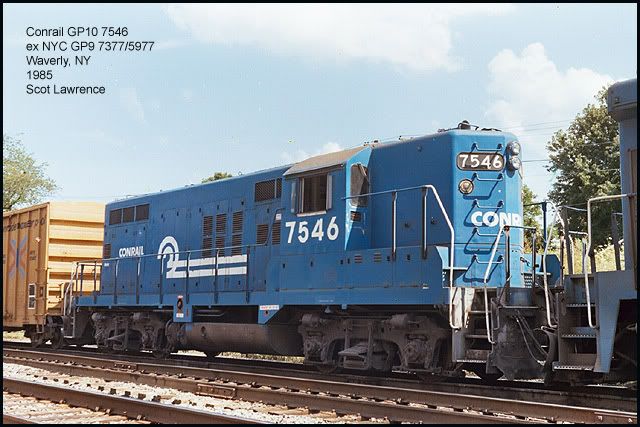 My favorites, common as dirt, the classic SD40-2: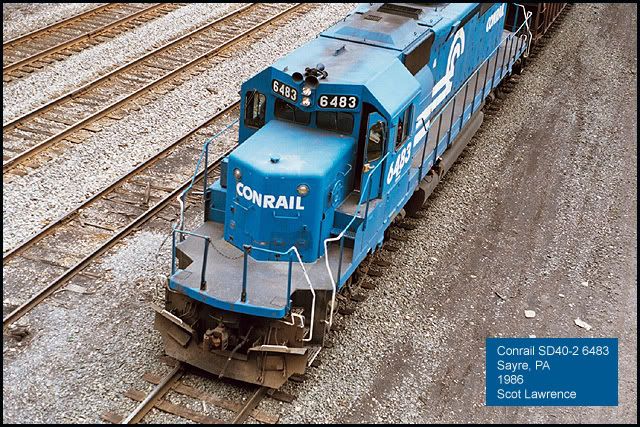 In 1986 a string of 13 former Erie Lackawanna SDP45's arrived in Sayre, for storage.
I never saw any SD45's or SDP45's in service on Conrail, but these rare SD's spent
about a year in Sayre. (several still exist today!)
http://gold.mylargescale.com/Scottychao ... Survivors/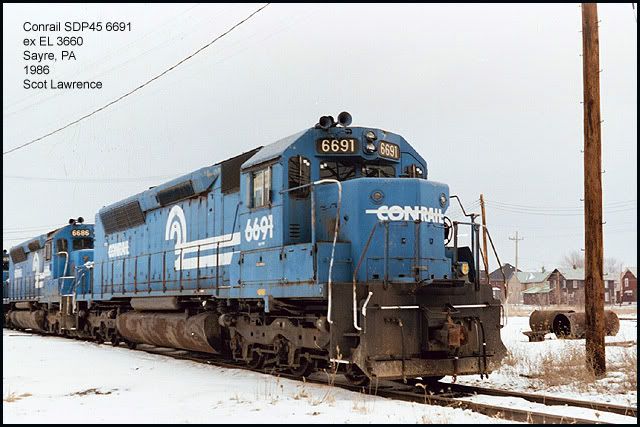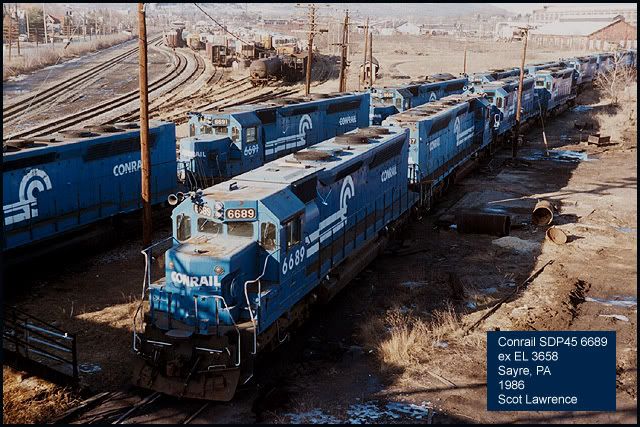 While a lot of the older power was still around, the Mid-80's also saw an increase
in brand-new modern power! Including SD50's, C30-7A's, C32-8's and C39-8's, among others.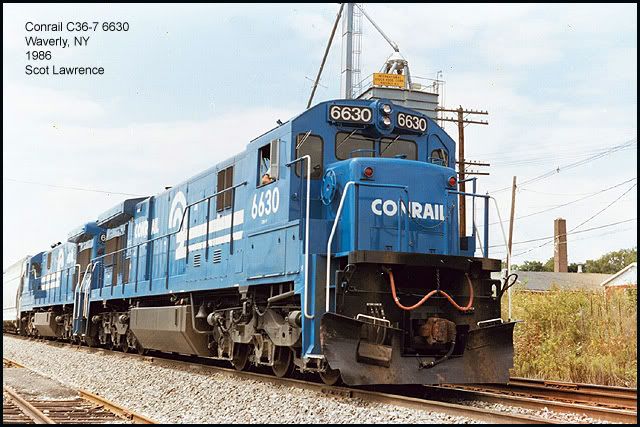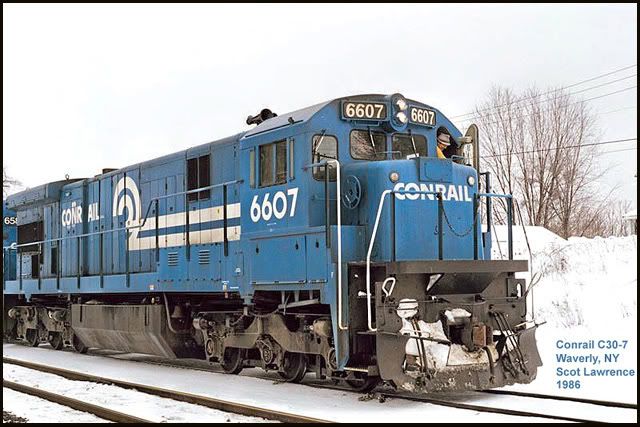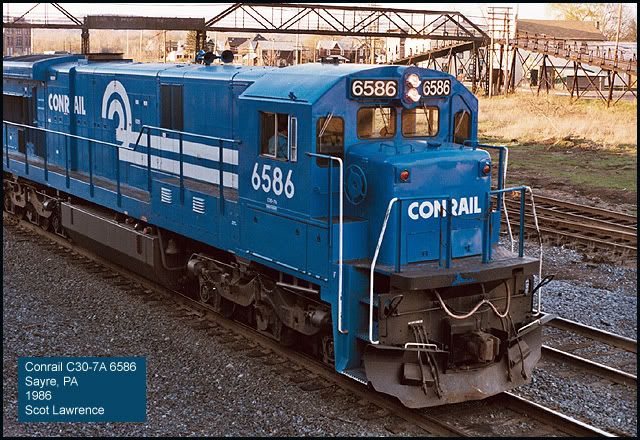 The SD50's were the first units I ever saw brand new..still among my favorites.
I would like to model a set of them in 1/29 scale.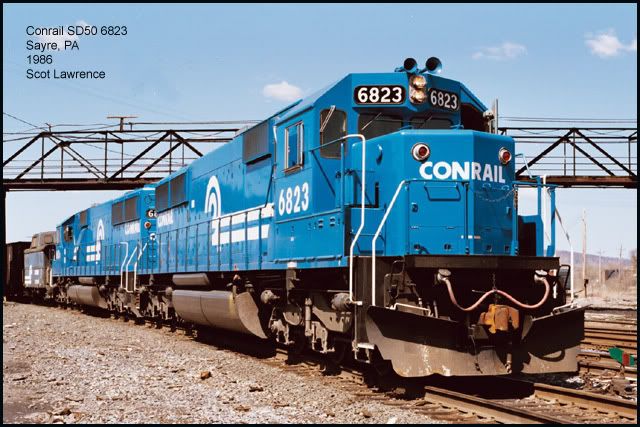 the C32-8's were rare beasts..only 10 total ever built, all owned by Conrail.
They had the distinctive "hump-back" look, shared with the C39-8, which IMO
made for a very interesting look. The later spartan cab C40-8's had a raised cab, eliminating the "hump",
making a much more boring unit IMO..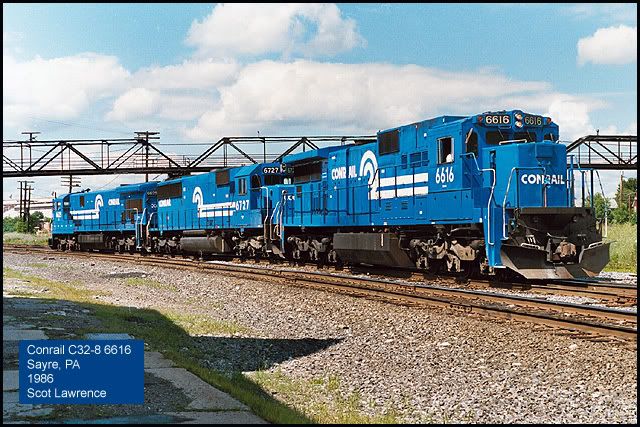 The more common C39-8, sharing the same "hump-back" look with the C32-8.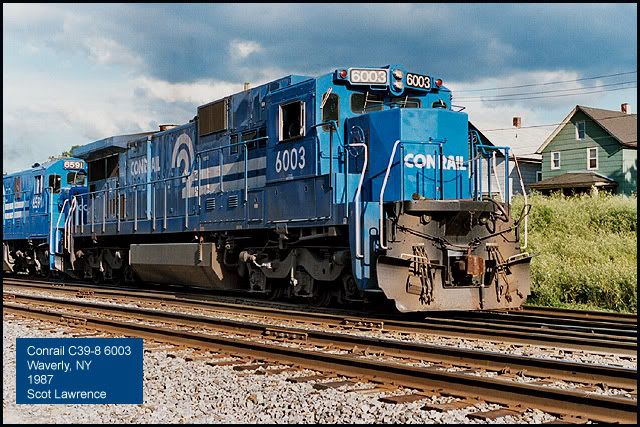 And thats the end of my mid-80's Conrail tour..
I graduated from highschool in 1987 and headed off to College..(New Paltz, NY)
I dropped out of active railfanning for about 10 years..
(well mostly..I caught some Metro North FL9's on occasion!
By the time I actively picked up my camera again it was the late 90's and Conrail was almost gone..
the era of widecabs had arrived, and soon Conrail was no more..
I ran into an old friend, who I hadnt seen for 20 years, in 2006..
one of those "hump back" C39-8's! working her last few days in Class-1 service: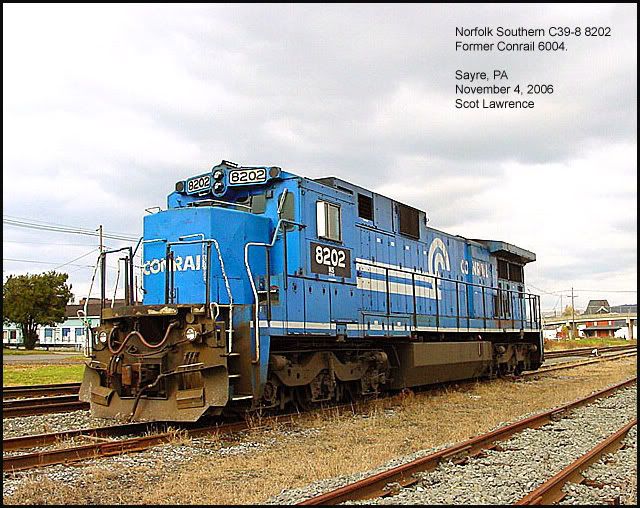 (more pics here:
http://www.railroad.net/forums/viewtopi ... 24&start=0
)
most likely the last time I will ever see one..
Its now Spring 2009, Conrail has been gone 10 years already!
and spotting units still in CR blue is getting harder every day..
get out and get them while you still can!
Scot