Just wondering, whats everyones favorite piece of RR memerobilia? (outside of pictures of course) I have a small amount of stuff off of Metro-North. I gotta dig up my box of RR stuff. I keep my other stuff on my car, so when I'm out railfanning, it deters the railroad police from finding a reason to give me a ticket. I have a rare patch I keep on the dash that was from the now disbanned Metro-North Grand Central Terminal Fire Department. here is an image, its the patch on the right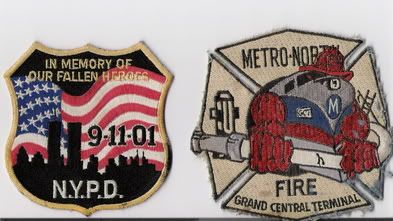 It's a cool image, an EMD FL-9 with a firehose. I'm yet to find one on ebay. The gray marks on the patch are pieces of lint, I forgot to clean it off before scanning it in. I think I've posted a picture of my Metro-North license plate frame on here too, thats my other favorite.
I also have operators manuals to FL-9 ACs and MN P 32 Genesis units. I'd scan those in, but I got to find the box with them in it, and I think the FL9-AC book is in my glove compartment for some reason.