Folks,
I would like to share what I believe are 30 of my favourite photos from 4 different regions of Australia.
I will attempt to compare the loco in the photo with it's US counterpart and will also give a brief description about the location.
I'll have resized the images to 800x600 which should fit most people's computers.
Please feel free to post comments, questions or even how the shots can be improved.
Less talk, more action!
WESTERN AUSTRALIA
I'll start off with my home state, huge iron ore reserves here, but they are about the same distance from LA to Seattle as it is from where I am to the BHP system!
Australian Railroad Group is the largest operator in WA. Here is ARG's S3303 on an Alumina train passing through Yarloop. The "S Class" are 3000hp 710E3 powered locos built by Clyde/EMD in 1998.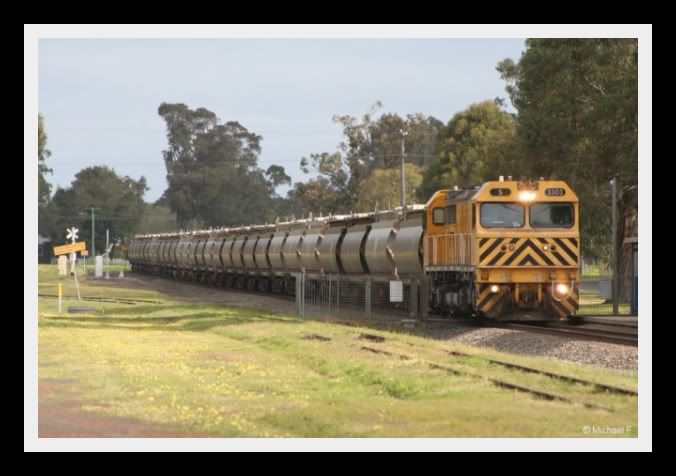 "The Prospector" is a train which goes from Perth (Capital city of 1.5million) to Kalgoorlie (800km east), a popular gold mining region. Here, the service has departed Grass Valley in the final minutes of sunlight.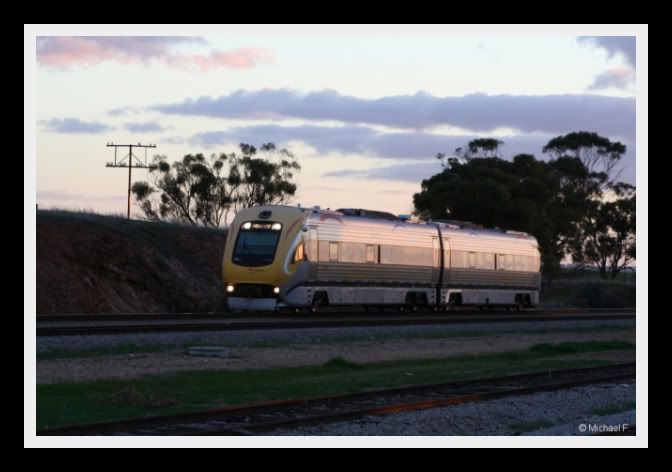 NR38 + NR109 are in full dynamic braking as they slow a double stack train through Merredin, 290km east of Perth. The "NR Class" locomotives are GE's built in the mid 1990's, "Cv40-9i" with a variable horsepower function.
NR109 is 1 of 3 locos painted red for "The Ghan" passenger train which runs through the outback of Australia. Getting one of these locomotives on a freight is possible, just VERY rare.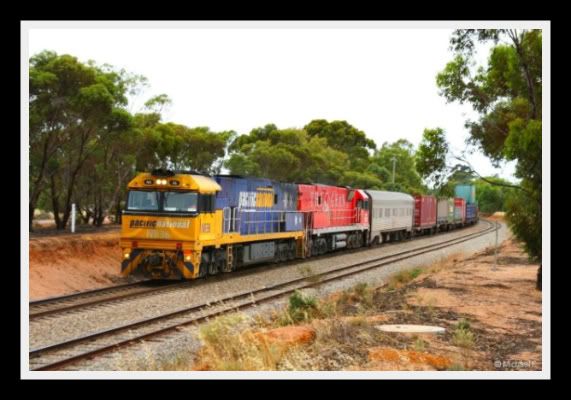 2 ARG "L Class" throttle up on a loaded grain train through Merredin. The "L Class" are pretty much EMD SD40's and built in the late 1960's.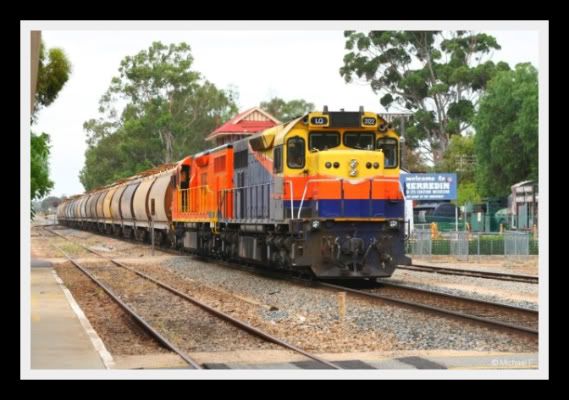 QRNational's Perth to Melbourne double stack service passes the wine growing region of Perth, WA. The lead locomotive is an EMD GT46C-ACe and very similar to a SD70ACe. The 2nd loco is "CL Class" and looks like an EMD F45, but with an E unit cab/nose.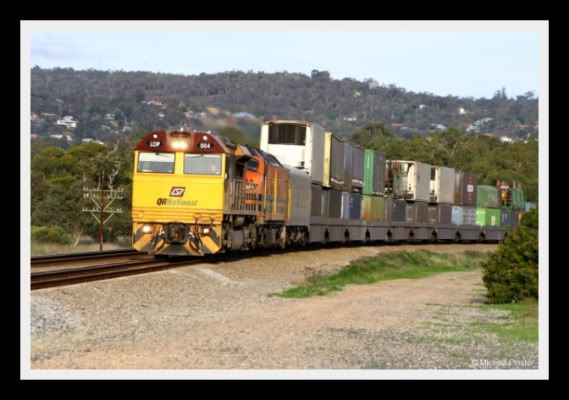 2 x 4-8-2 "W Class" steam locomotives stuggle up the Hotham Valley Railway with 6 cars in tow.
SCT Logistics has just departed the yard in Perth, starting it's 3 day trip east to Melbourne. The locomotives are EMD GT46C-ACe's and are 2 years old.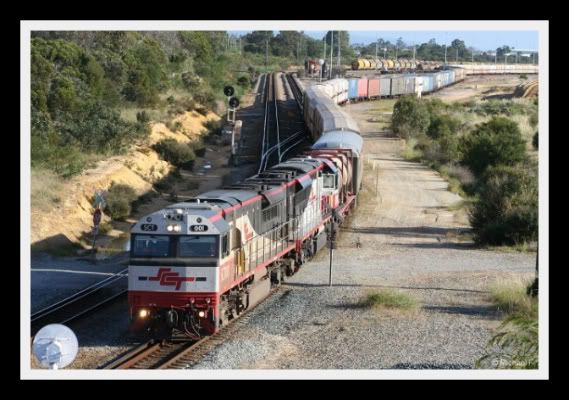 DB 2306 charges over the Wellard Rd level crossing with an alumina/causitic soda train. The "DB Class" are close to an EMD SD38-2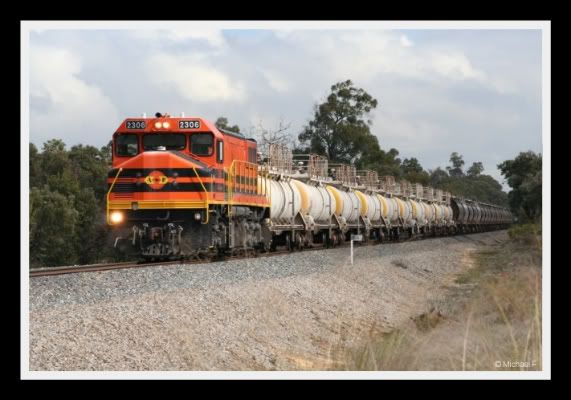 DB 2310 on the right has come into the loop with a cement train as S3303 enters the loop with a rake of alumina.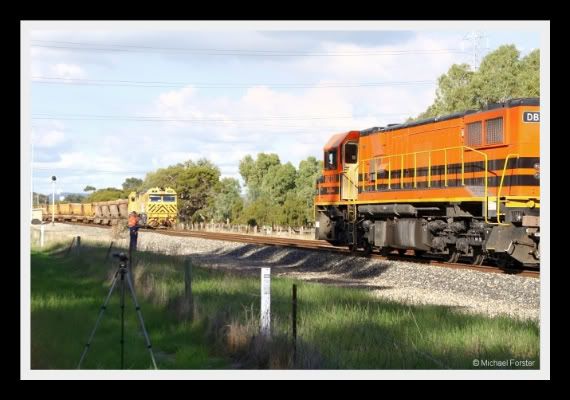 S3306 is in full dynamic braking as it rolls off a fairly hilly region of the state. It is bound of Bunbury (250km south of Perth) for unloading at Inner Harbour.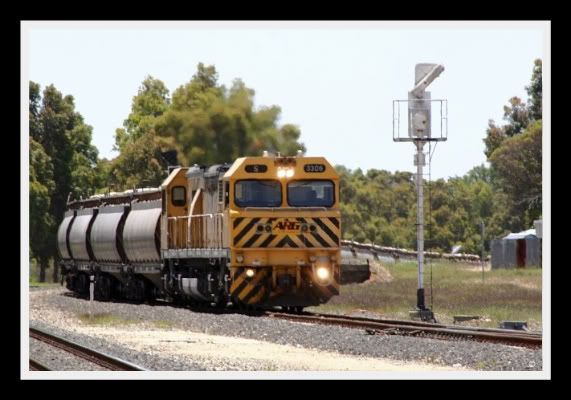 DD 2355 passes through on an empty alumina train at Brunswick Junction. These are very similar to EMD SD38-2's.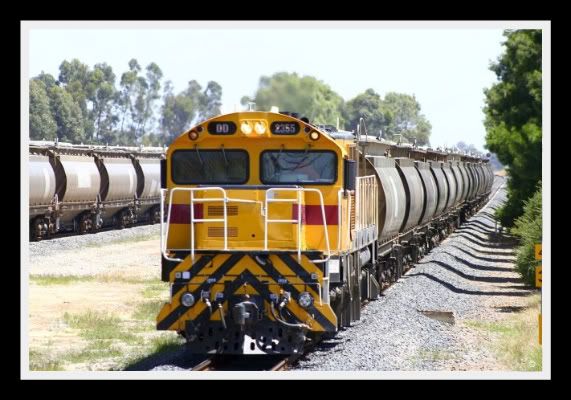 2 x "DB Class" arrive in Pinjarra in light rain on an empty coal train.
One of the biggest rail infrastructure projects in 2007 was construction of a 90mph, 60mile long commuter line from Perth to one of the far southern suburbs. Here a rail train is being pushed by a "R Class" locomotive, which are built by "English Electric" in the 1960's.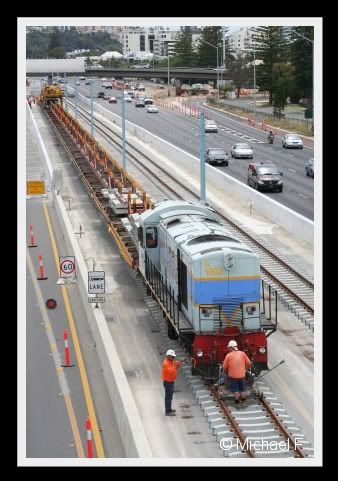 QRNational's intermodal train from Perth to Melbourne has just left Perth with 4 locos. The first 2 are "6000 Class" - GE C43ACi - the other 2 locos "CL Class" have 3000hp EMD 645E3 engines, but an E unit cab.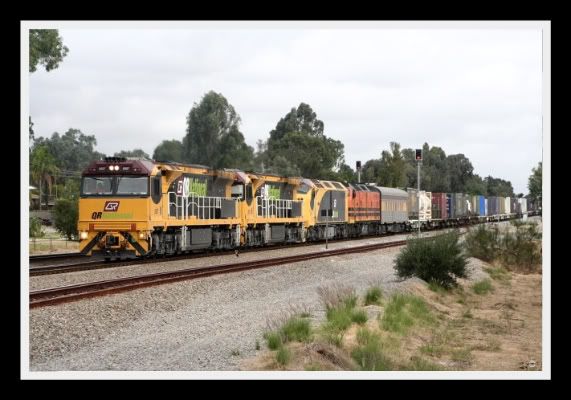 QUEENSLAND
QRNational runs a very large coal network through central Queensland, some trains are electric hauled, depending what mine they come from.
A QRNational empty coal train passes through Raglan with a "4000 Class" and 2250. 4000/4100 Class locos have EMD 3000hp 710G3 engines, while the 2250's are very similar to SD40's.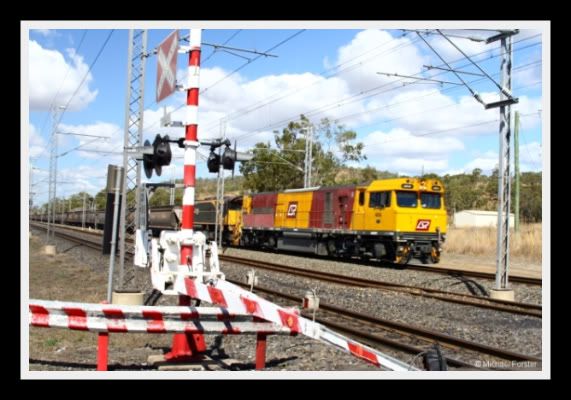 Mid-Train helpers speed past the grade crossing at Raglan. This electric locomotive is a member of the "3550 Class". Typical electric coal trains are around 120 wagons with 2 electrics up front, with 2 in the middle.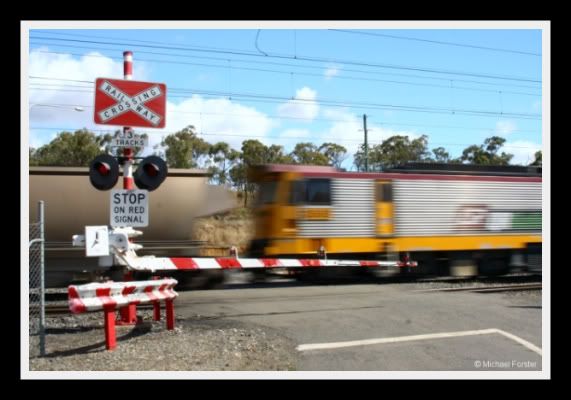 200km south of Townsville (where a lot of US Armed forces training drills are based) is a single track coal network from Colinsville to Abbot Point unloading port.
An EMD "2250" class leads 3 GE U26C's on a loaded coal train through this very scenic part of Australia. Not far from the Whitsunday Islands and The Great Barrier Reef.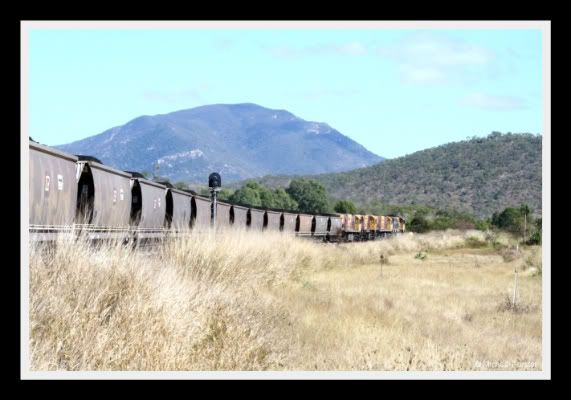 4 x QR 2600 Class GE's climb the grade on an empty coal train coming out of Abbot Point. Sadly, scenes like this are no longer as the 2600 class are now based out of Townsville.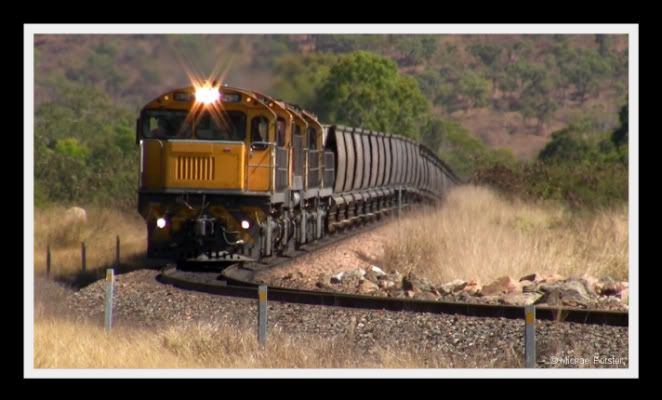 NEW SOUTH WALES
There are also very large coal mines about 300km North West of Sydney - the region is called the "Hunter Valley" and also is home to some of Australia's best wine growing region. Makes for a perfect trip!
Here, a commuter DMU (Endevour Set) crosses a Pacific National coal train with an 82 + 81 + 81 + 82 class combo - All 3000hp EMD's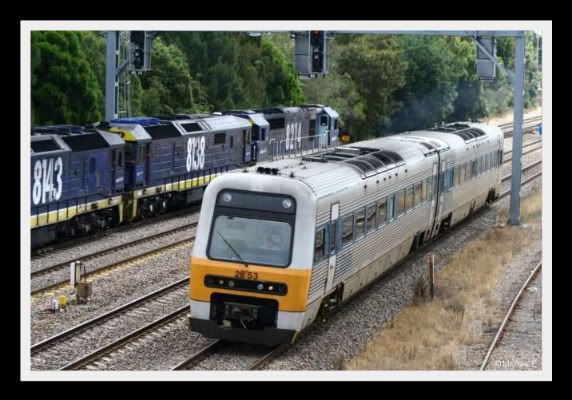 A Pacific National steel train passes on the up main, with 2 "NR Class" GE's upfront, along with 3 x EMD "DL Class" which have 12-710G3 engines.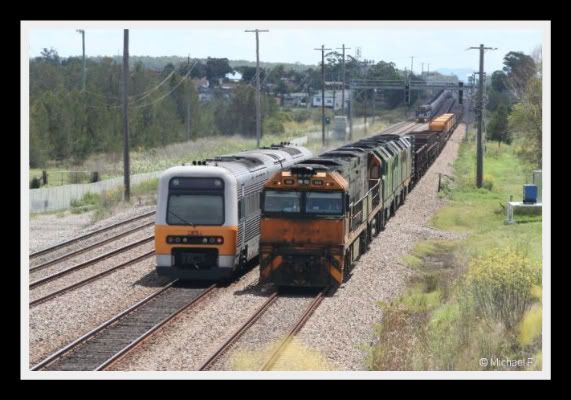 Trying something a bit different with 3 x EMD "90 Class". 9001-9032 were built by EMD in London Canada and are very similar to SD70M's.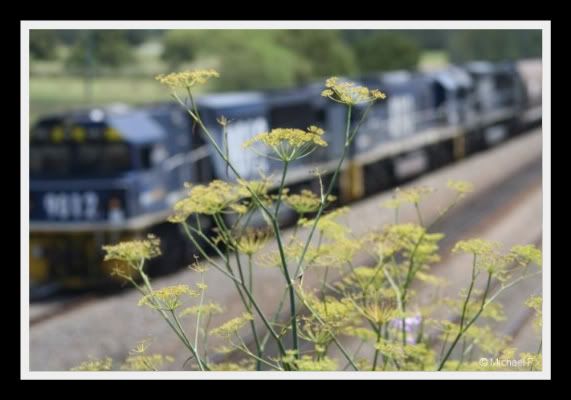 On one of the many Sydney Metro freight lines, an ALCo "442 Class" throws a large cloud of smoke into the air. 251 powered locos are still going strong. The 2nd loco is a "GM Class", which looks very similar to an EMD "F unit", but with C-C trucks.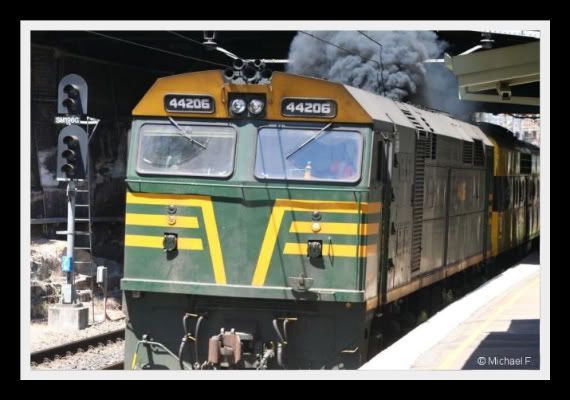 A Pacific National grain train has a crew change at Moss Vale, about 200km south of Sydney. The EMD "81 Class" are very similar to SD40-2's
G&W runs a track inspection train through Bargo, south of Sydney.
The 2200 class are similar to EMD SD38-2's.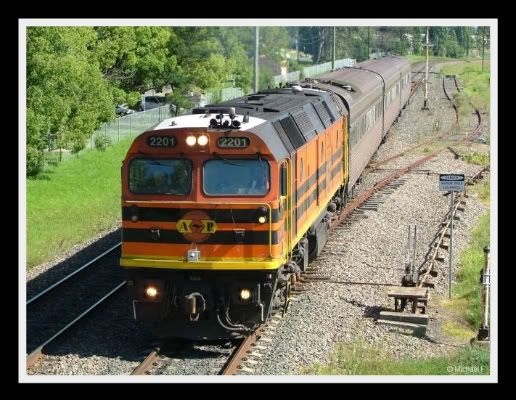 VICTORIA
Melbourne is the capital city - about 2.5 - 3million people. It is home to the largest light rail/tram network in the world.
Trams running down Swanston St.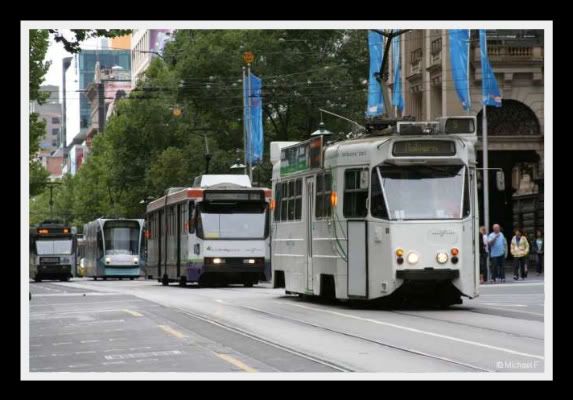 Freight Australia's 9121 grain charges up Warrenheip Bank (grade) with 5 locos. Freight Australia was owned by Rail America until being sold off in 2005. All locos on this train are EMD powered, mostly with 645 engines. 2 have 567's!!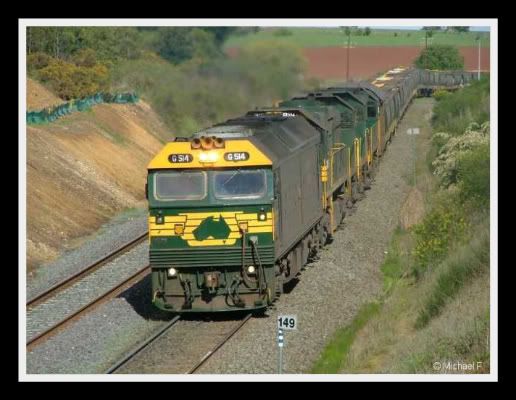 QRNational's train from Melbourne to Adelaide has just left town with a leased "VL Class" (EMD SD40-2) + RL Class (EMD SD50 type) + EL Class (CM40-8).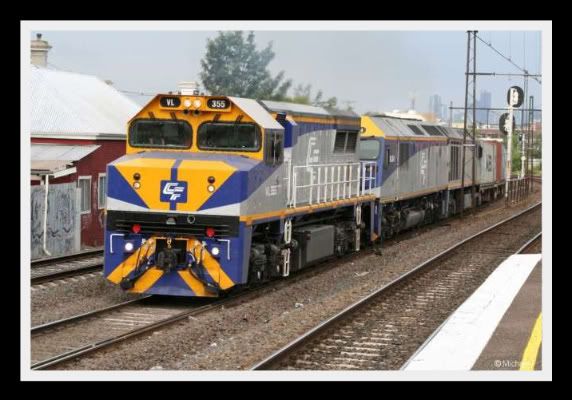 A Pacific National intermodal train is leaving with 2 GE's and a SD60 type loco, as a V/Line DMU (100mph running, but not this section of track!) passes.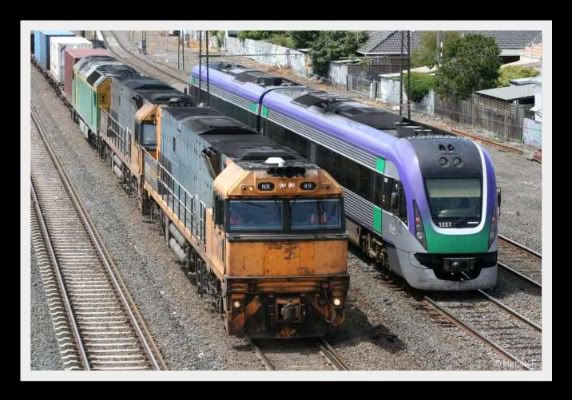 The skyline of Melbourne provides the backdrop as a Pacific National intermodal train departs up a grade, all 3 locomotives are still in former owner paint schemes!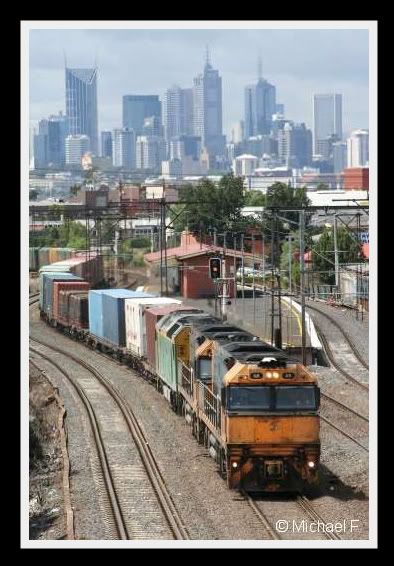 Well, that's it for now, if this thread proves popular, I might upload some more over the weekend.
Cheers,