Someone has to start, post your Alaska Railroad photos here!
Here are a few of mine, most are from a few years ago. Click on the photos to make them larger, due to size limitations, I cannot post full size images here. All photos were taken either as a paying passenger or from public property.
The northbound
Coastal Classic
along Kenai Lake, headed to a final destination of Anchorage, in 2010.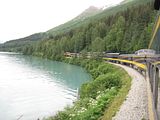 The southbound
Coastal Classic
rushes south along Turnagain Arm, towards a final destination of Seward, on an overcast day in 2009.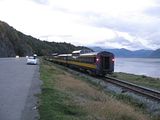 The head portion of the
Denali Star
sits at the Anchorage depot, unloading the last few passengers at the final stop of the day, in 2009.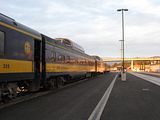 Because of length, the
Denali Star
actually spots in two places at the Anchorage depot. Here the rear portion of the above train can be seen unloading across the street. It should be noted that 2013 was the last year of this practice, as the private cars seen in this picture will be hauled separately, as a private train, instead of operating on the rear of another train.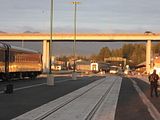 Someone left the rear knuckle open on the northbound
Denali Star
, that's bad luck!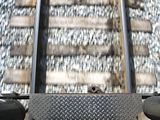 On a sunny 2009 day in Portage, the Conductor prepares to disembark passengers from the
Glacier Discovery
, after a day's outings in Chugach National Forest.