Hi all!
@ Dogbert: On the page of my site that you reference, I reference the reconstruction of that segment of trackage to New York City Economic Development Corporation's Sunset Park Vision Plan:
http://www.nycedc.com/PressRoom/PressKi ... n_Plan.pdf
PS: Like this photo? Here's another I took: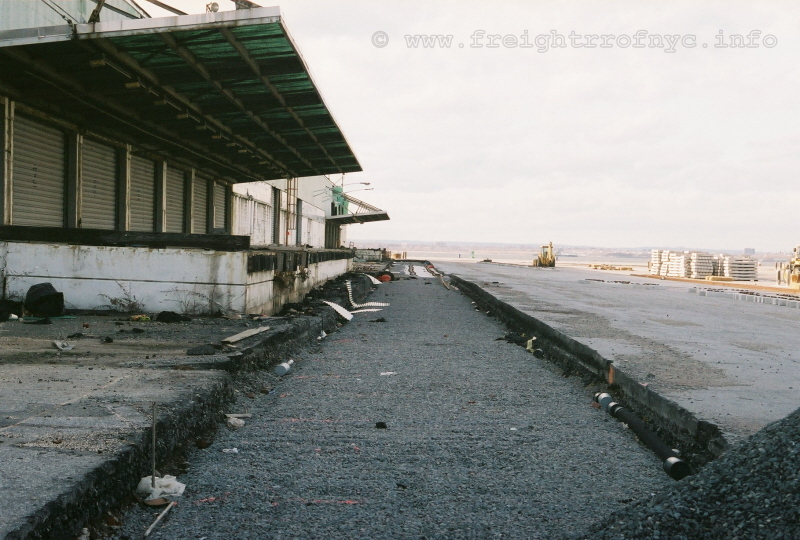 Whether this reconstructed spur / siding will be be serviced by SBK or NYNJ remains to be seen, but my money is on NYNJ.
@ All:
The reasons for either of the following plans is to eliminate the curves at First Ave / 41st and Second Ave / 41st (under the corner of the warehouse). This trackage still exists but has been removed from service and will be removed all together when the First Avenue connection is installed and streets are resurfaced.
The current Sunset Park Vision Plan has the following track routing: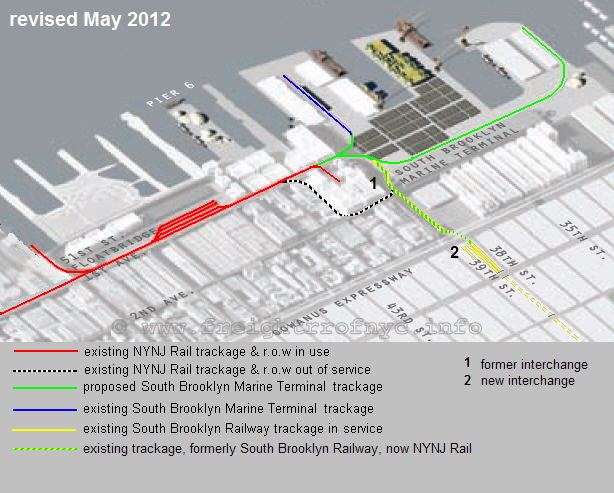 Notice the current SBK 39th Street Yard is not park of the plan.
Another plan I've seen (but can't find where) and dated ca. 2003; is to reorient the 39th Street Yard (currently SBK) from east/west to north south. A track will be laid from First Avenue and 41st Street north up First Avenue into this new yard.
I drew the following from memory, so please don't hold it to 100% accuracy: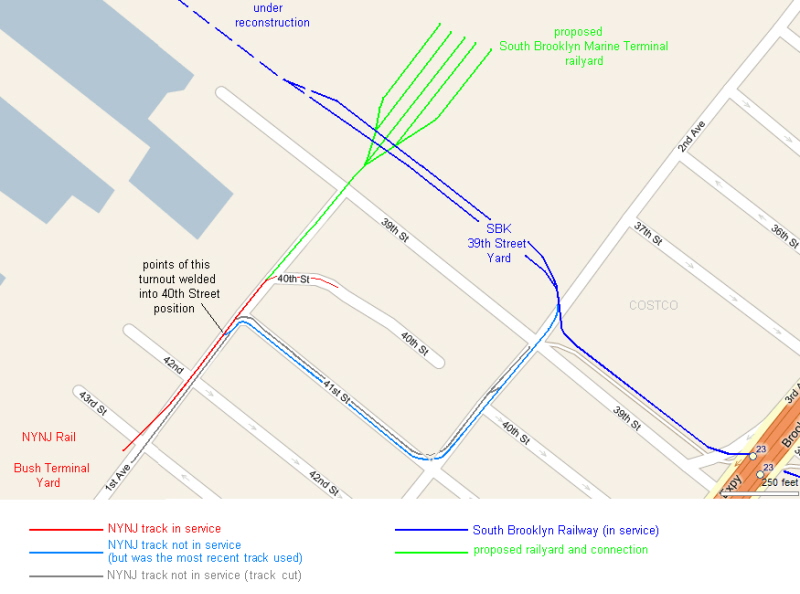 From NYC.gov "Blue Room":
Upgrade Freight Rail Service and Promote Other Environmentally Sustainable Practices:
The Vision Plan includes new measures to promote the movement of goods by rail, which is an efficient, economical and sustainable mode of transportation increasingly attractive to industrial businesses. Later this year, the City will begin Brooklyn waterfront rail improvement projects, including the construction of rail freight infrastructure at the South Brooklyn Marine Terminal.
The City will also invest $9 million to make upgrades along 1st Avenue that will allow larger, modern railcars to connect to the terminal. The City is also working to improve the reliability of rail service to local customers. By introducing rail service and promoting the movement of goods by rail and barge,
the Vision Plan would result in 70,000 fewer truck trips and 5,000 fewer tons of CO2 emissions citywide every year. In addition, several of the large-roofed industrial buildings at the Brooklyn Army Terminal and Bush Terminal will be fit out with solar energy capabilities that will significantly mitigate emissions and reduce energy costs.
That proposal I saw dated 2003, if I remember correctly has the new yard under the operational control of NYNJ and will be used for intermodal as well.
I don't recall reading about SBK still having access? If so, I'd like to see how engineers design SBK's access to the new orientation as well as the track that is currently under reconstruction.
BTW, the track (in turquoise) currently up 41 St and on Second Ave to the SBK interchange is in extremely poor shape. I saw broken rail, and height differences at joints as much as 3-4 inches.
Phil