The next LV station west down the main is Gilbert, NY. (pic of Gilbert Station is at the top of the 2nd page). Gilbert is a small hamlet located roughly between Ovid, NY and Willard, NY, where the LV Main crossed Upper Lake Rd., right near the Gilbert Rd. intersection.
Looking west down the main is Gilbert Cut. And over the cut is the bridge carrying the LV Willard Branch. Those tracks came off the Passenger Main at Hayt's Corners, came up the hill to Ovid Station, and carried on over the Main to Willard Psychiatric Center. Eventually a spur into Willard was put in off the Main Line
here's a later look at Gilbert Station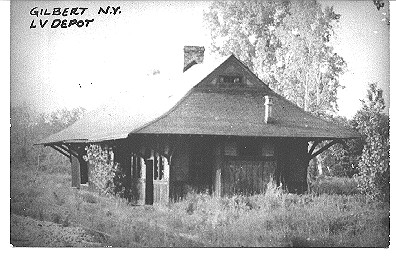 lvrr.com
looks like it was the railroad itself who removed the original dormers from the roof.